Photo coutesy - Cnet
DJI just released a hand held gimbal for smartphones which can give you smooth buttery video with your smartphone camera. So if you got iPhone 6S you can get 4K stabilized video same as you DJI OSMO.

This gimbal have other great features like active track and motion time lapses which is great. You still have roll,pitch and yaw control with joy stick, selfie by triple pressing the trigger, shutter button, video button and heading lock mode.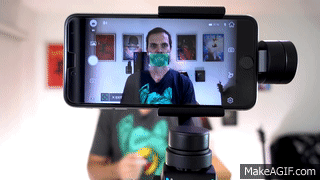 Active track
DJI priced it at 299 USD which is looks expensive but it is worth to buy because features like active tracking and motion time lapses doesn't exist in any other smartphone hand held gimbal. DJI makes everything worth every penny.
Other cheap smartphone gimbals which you can buy are
FEIYU Tech G4
Feiyu Tech G4 cost exactly same as 299$ but now it looks out of the game because DJI priced exactly same 299$ with great features and superior quality. Feiyu will and should decrease in the future.
Zhiyun Z1 smooth
Z1 smooth cost 204 USD. It is again 3 axis gimbal but doesn't offer any great feature like OSMO.